Robert "Hoot" Gibson, Captain USN (retired)
Invitational Ambassador
Robert "Hoot" Gibson, Captain USN (retired) joined the National Aviation Heritage Invitational as the first official Ambassador on December 21, 2004. Gibson is highly distinguished in the aerospace industry. Having graduated from the California Polytechnic State University in 1969, with a B.S. in Aeronautical Engineering, Gibson served in the US Navy as a Test and Fighter pilot. He is a graduate of the highly acclaimed US Navy Fighter Weapons School, "Top Gun", and served combat missions in Southeast Asia.

Gibson was an Astronaut and Space Shuttle Commander between 1978 and 1995. He flew 5 successful missions with satellites, DOD payloads, and Science Laboratories, commanding four of them. Gibson has logged more than 11,000 hours flight time in more than 50 types of civilian and military aircraft, of which more than 9000 hours are jet and rocket powered.

Amongst other recognitions, Gibson performed the first ever docking with Russian "Mir" Space Station, participated in the investigations following the Space Shuttle Challenger accident and is a recipient of numerous NASA awards and military decorations. Gibson currently is a commercial airline pilot for Southwest Airlines, is married to Astronaut Margaret Rhea Seddon, M.D., and a proud farther of four.

Hoot is a 2013 Enshrinee of the National Aviation Hall of Fame.
Ken Perich
Chairman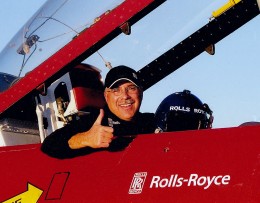 Ken Perich is the Chairman and co-founders of the National Aviation Heritage Invitational LLC (NAHI). NAHI, which was established by Rolls-Royce, The Smithsonian National Air and Space Museum, the National Aviation Hall of Fame and the Reno Air Racing Association, for the expressed purpose of promoting the preservation of aviation history and encouraging students to pursue careers within the aviation industry.
Ken spent his career within the aviation industry and retired from Rolls-Royce North America as Vice President - Sales and Marketing. Ken joined Rolls-Royce North America in 1988 and has also held the positions of; Vice President - Market Development, Customer Business Executive and Director- Airline Marketing. During his long career with Rolls-Royce, he has been responsible for over $10 Billion in new aero engine sales and aftermarket services. He has also held sales, marketing and management positions with AAR, Gulfstream Aerospace Corporation, Honeywell Aerospace and Quasar Data Products.

Ken holds a Commercial pilot's license with Single Engine Land, Single Engine Sea, Multi-engine Land, Multi-engine Sea and Instrument ratings. In addition, he holds type ratings in Cessna Citations and Lear Jets, which qualify him to fly over 11 different models of corporate aircraft. Ken is an Advanced Ground Instructor and also completed Boeing's flight training program on the 757/767 series of aircraft.

He is a former Trustee of the National Aviation Hall of Fame, an Advisor to the German American Aviation Heritage Foundation, an Advisor to the General George C. Marshall International Center, a founding contributor to the Careers in Aviation video series program created by the International Society of Transport Aircraft Trading (ISTAT). Ken served two terms as a Trustee of the ISTAT Foundation. In addition to flying, Ken enjoys snow skiing, sailing and scuba diving.
Ron Kaplan
Deputy Director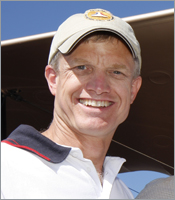 Ron Kaplan is one of the National Aviation Heritage Invitational's original founders. At that time he was serving as Development Director of the National Aviation Hall of Fame (NAHF), and thus served a vital role in coordinating the participation of NAHF enshrinees in NAHI from the start.

Ron's career in preserving America's aviation heritage is extensive and varied. From 1994-1998 he was the self-employed founder of Warbird Aviation Art, specializing in hand-painted flight jackets and nose-art replicated on scrap aircraft skin and actual aircraft. Among his clients were the Smithsonian Air & Space Society, Air & Space Magazine, Memphis Belle Memorial Association, Miss America P-51 Air Racing Team, NIKE, and others. A member of the USAF Art Program, one of Ron's jackets is on permanent display at the Pentagon.

In 2009, Ron left the staff of the NAHF to start a consulting firm whose services include producing the NAHF's annual enshrinement (the "Oscar Night of Aviation") and the formal ceremonies for the Army Aviation Hall of Fame and the NAHF, as well as coordinating several other prominent annual award programs. He is also founder and director of the Reel Stuff Film Festival of Aviation, dedicated to the development, creation, and public appreciation of aviation film and media. In 2016 he returned to the staff of the NAHF as Director of Enshrinement & Outreach, while continuing to consult part-time. Ron is a columnist for Warbird Digest Magazine, a founding contributor to www.allthingsaero.com, and his writing and photography often appears in a variety of other aviation publications.
Bob Sciabica
Director IT and Web Management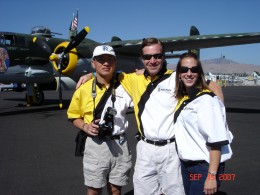 Susie Reinke
Director Operations
Susie joined the aviation industry in 1976 at Stapleton Intl. Airport, Denver where she was initially employed by an FBO followed by employment with a customs house broker.

Susie relocated to the Washington, DC area in 1981 where she began her career with Rolls-Royce North America and retired after 26 years of service as General Accounting Manager. Susie directly managed Accounts Receivable, Accounts Payable, and General Accounting staff. She was the accounting liaison between the U.S., U.K., Germany, and Canada affiliates as well as Collection Officer responsible for liaison between RRNA and seven major U.S. airlines in addition to over 50 lesser fleet aviation customers including PBtH customers. Susie was a member of IMA - Institute of Management Accountants.

Susie joined NAHI in 2005 and relocated to Reno in 2007. She is also an active member volunteer at the William F. Harrah National Automobile Museum in Reno.
June Powers
Director Participant Coordinator
June retired in 2000 from Hewlett Packard in Corvallis, Oregon with 26 years experience in Logistics, Purchasing and Supply Chain management She likes to be involved with her community. She was a member of the City of Independence Planning Commission, City Council and also Polk County Planning Commission before moving with her husband to Central Oregon in 2010.

June enjoys volunteering and spent nine years volunteering at The Evergreen Air and Space Museum in McMinnville Oregon. Since moving to Central Oregon she has focused her volunteering with La Pine Elementary School and any activity that supports the kids of La Pine. During the summer months she adds volunteering at air shows in Central Oregon, Oshkosh and NAHI –Reno.

June and her husband have been participants in The National Aviation Heritage Invitational winning the Henry "Hap" Arnold trophy in Reno 2003 and the Overall Heritage trophy for their Piper L-4 in Dayton, Ohio, 2005.

She has been a NAHI volunteer since 2006 and the National Aviation Heritage Invitational Director-Participant Coordinator since 2009, responsible for managing the approval process and communications with the applicants. During the actual NAHI event, she is available to resolve issues that may arise and generally looks to ensure the participants walk away with a positive experience.
Colin Powers
Chief Judge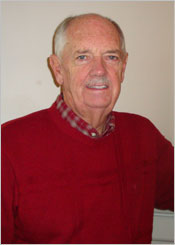 Colin retired from Hewlett Packard Company as a Mechanical Engineer in 1996. He has been involved in aviation since 1969 when he earned his private pilot license. He immediately decided he needed his own plane and built an experimental aircraft which he flew for 17 years. Once he had the "bug" and the time, he restored three more award winning aircraft and finished a forth last year.

He has received both the EAA Silver and EAA Gold wrench awards for the restoration of a Piper L4. This aircraft won the Overall Heritage trophy in 2005 as well as Reserve Grand Champion Warbird at EAA AirVenture 2007. His passion for authenticity and documentation has provided him the expertise needed to judge aircraft which he has done for more than 25 years. Colin is currently Chief Judge at the Madras Airshow in Oregon, Warbird judge at EAA AirVenture and has been judging at NAHI Reno since 2006, the last seven years as Chief Judge.

Other aviation experience include being a volunteer on the restoration of the Spruce Goose and then restoration manager for the Evergreen Aviation and Space museum in McMinnville Oregon, as well as past member of the museum's Board of Directors.
Connie May
Director of Communications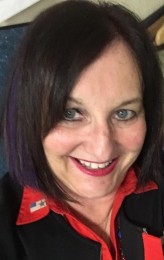 Connie May is the Director of Communications for the National Aviation Heritage Invitational (NAHI)

May, based in Reno, Nevada has been with NAHI since 2002 and has a background in broadcasting and advertising in the San Francisco Bay Area and Nevada. May has written articles ranging from business profiles to feature articles in local publications and aviation related publications and websites. She is an active member of Roadrunner's Internationale. "those who worked in secret during the Cold War, developing, testing and flying the U-2 and A-12 at Groom Lake (aka Area 51) Nevada. She has participated in Roadrunner Events including the A-12 Oxcart legacy Tour visiting various government agencies in 2010 and events at aviation museums.

Her real love is telling the story of the people, past and present that make things happen in the aviation community. She has the highest regard for our aviation pioneers and the sacrifices they made to protect us and give us a promising vision for the future. May feels very strongly about the preservation of aviation's national treasures and the dedication of the owners and restorers to the mission of keeping our history alive.

May's activities revolve around aviation as she has been an employee for Southwest Airlines since 2002.
James Chan
Staff Photographer
James has been a Volunteer and Staff Photographer for NAHI since 2003. Like many other members of the NAHI team, James' involvement originated when he worked at Rolls-Royce North America in Reston, VA, where he was Tax Manager. Rolls-Royce was one of the four Founding Sponsors of the National Aviation Heritage Invitational.

Although not a pilot, James appreciates the time, energy, and passion which goes into the restoration of these vintage aircraft and how they are used to influence students and adults to pursue careers within the aviation industry.

James is a Tax Manager for a mobile/wireless company and currently resides in Indianapolis, IN.
JOE JONES
Art Director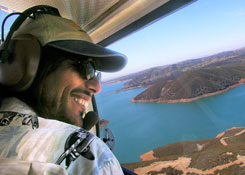 A Denver native and student pilot himself, Jones has been a professional illustrator, fine artist, and graphic artist since 1983.

Since 2001, Joe's trail blazing aviation design and illustration work have landed him accounts with clients such as Adobe Systems, Rolls Royce, Frontier Airlines, Chautauqua Airlines and the United States Air Force. Jones has also created national campaigns for Adidas, and has worked with performers such as Carlos Santana.

Over the past decade, Jones has been recognized and awarded as one of the world's top artists in the air show industry today, breaking all "ICAS" International Council of Air Shows, records in consecutively receiving the industries top honors for his 2004 and 2005 campaign for Nellis Air Force Base and Aviation Nation. Jones is the only aviation artist in the world to receive five first place ICAS awards in the industry. Chasing his dream, in 2004. As the official artist since 2004, Jones won the first ICAS marketing award for Rolls-Royce, and the National Aviation Heritage Invitational for "Tenth Anniversary" event poster he produced announced in 2008 at the ICAS convention in Las Vegas.

In 2007 Jones launched his 'all aviation' greeting card company, Airmail Greetings offering a wide range of products specific to the aviation industry.