THE MAN, THE LEGEND
Neil Alden Armstrong was born in Ohio on August 5, 1930. He was an engineer, Naval Aviator, test pilot, American astronaut and a university professor. He was the first person to set foot on the moon. His first spaceflight was Gemini 8 in 1966, for which he was the Command Pilot. On this mission, he, along with pilot David Scott, performed the first manned docking of two objects in outer space.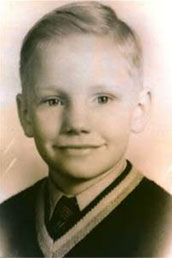 Armstrong's second and last mission into space was as Mission Commander of the Apollo 11 moon landing in July of 1969. On this famous "One giant leap for mankind" mission, Armstrong and Buzz Aldrin descended to the lunar surface and spent 2.5 hours exploring the moon while fellow astronaut Michael Collins orbited above.
In 1947, Armstrong began studying Aeronautical Engineering at Purdue University and received his Bachelor of Science degree in 1955. Before becoming an astronaut, he was an aviator for the United States Navy and saw action in the Korean War. Armstrong then went on to become a test pilot at the NACA High-Speed Flight Station, now known as the Dryden Flight Research Center, where he flew over 900 flights in a wide variety of aircraft. Later, Armstrong attended the University of Southern California, where he earned a Master of Science degree in Aerospace Engineering.
As a research pilot, Armstrong served as project pilot on the F-100 Super Sabre A and C aircraft, F-101 Voodoo and the Lockheed F-104A Starfighter. He also flew the Bell X-1B, Bell X-5, North American X-15, F-105 Thunderchief, F-106 Delta Dart, B-47 Stratojet and the KC-135 Stratotanker.
Armstrong announced shortly after the successful Apollo 11 flight that he planned not to fly in space again. He was appointed as the Deputy Associate Administrator for aeronautics for NASA's office of Advanced Research and Technology. He would serve in this role for 13 months, retiring from the position and NASA in August of 1971. Later that year, he accepted a teaching position as University Professor of Aerospace Engineering in the Department of Aerospace Engineering at the University of Cincinnati. After teaching for eight years, Armstrong retired in 1979.
Armstrong was a Fellow of the Society of Experimental Test Pilots and the Royal Aeronautical Society; Honorary Fellow of the American Institute of Aeronautics and Astronautics, and the International Astronautics Federation. He was also a member of the National Academy of Engineering and the Academy of the Kingdom of Morocco. He served as a member of the National Commission on Space, as Vice-Chairman of the Presidential Commission on the Space Shuttle Challenger Accident and as the Chairman of the Presidential Advisory Committee for the Peace Corps.
Neil passed away in August of 2012 at the age of 82.